Upcoming Events & Webinars
All events/webinars are in Central time. If you're looking for a past event, please check our "Support Shop" page to find past webinars that are available for purchase!
PDA North America is a non-profit 501(c)(3) organization. Proceeds from webinars help support PDA North America. Don't want to attend a webinar/training but still want to support us? Donate here.
PDA North America Conference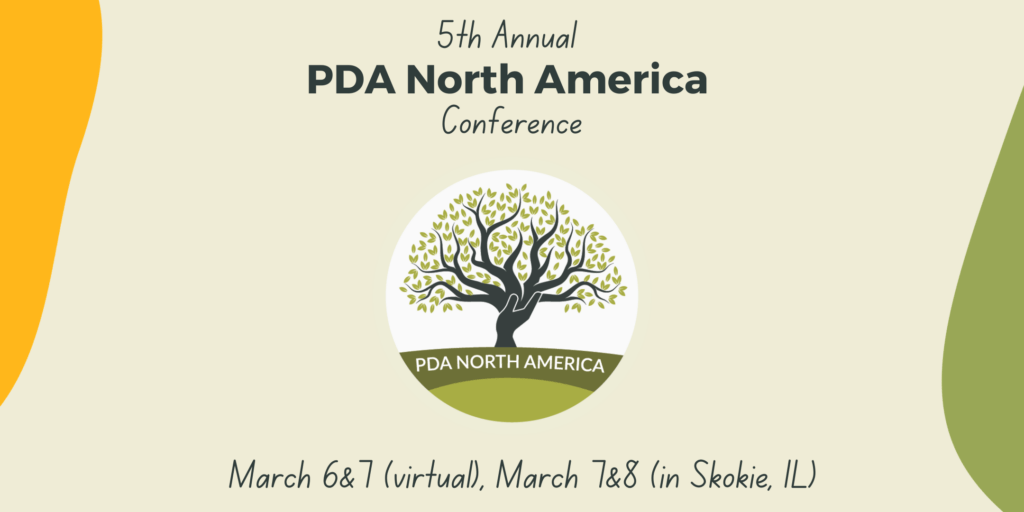 Tickets are now on sale for the 5th Annual PDA North America Conference which will be available virtually and in-person (Chicago area).  Click below to learn more about the conference details!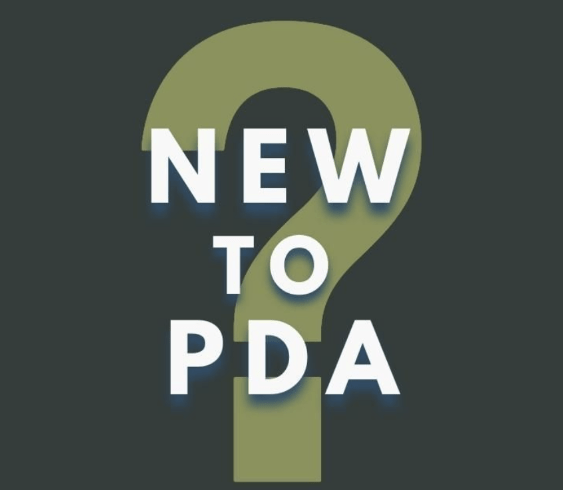 NEW To PDA? – A monthly webinar led by PDA North America founder and licensed therapist, Diane Gould. This webinar is for families, individuals and professionals who have recently heard of PDA (pathological demand avoidance) and want to know more. Diane will do a short presentation and answer questions. Participants are also welcome to attend our regular monthly webinars.
Held the first Thursday each month for one hour at 7:00 CST. Registration is required. To protect the privacy of those attending, these webinars will not be recorded.
PDA North America is a non-profit 501(c)(3) organization. Proceeds from webinars help support PDA North America. Don't want to attend a webinar but still want to support us? Donate here.
Webinar: Lived Experiences of PDA & Marriage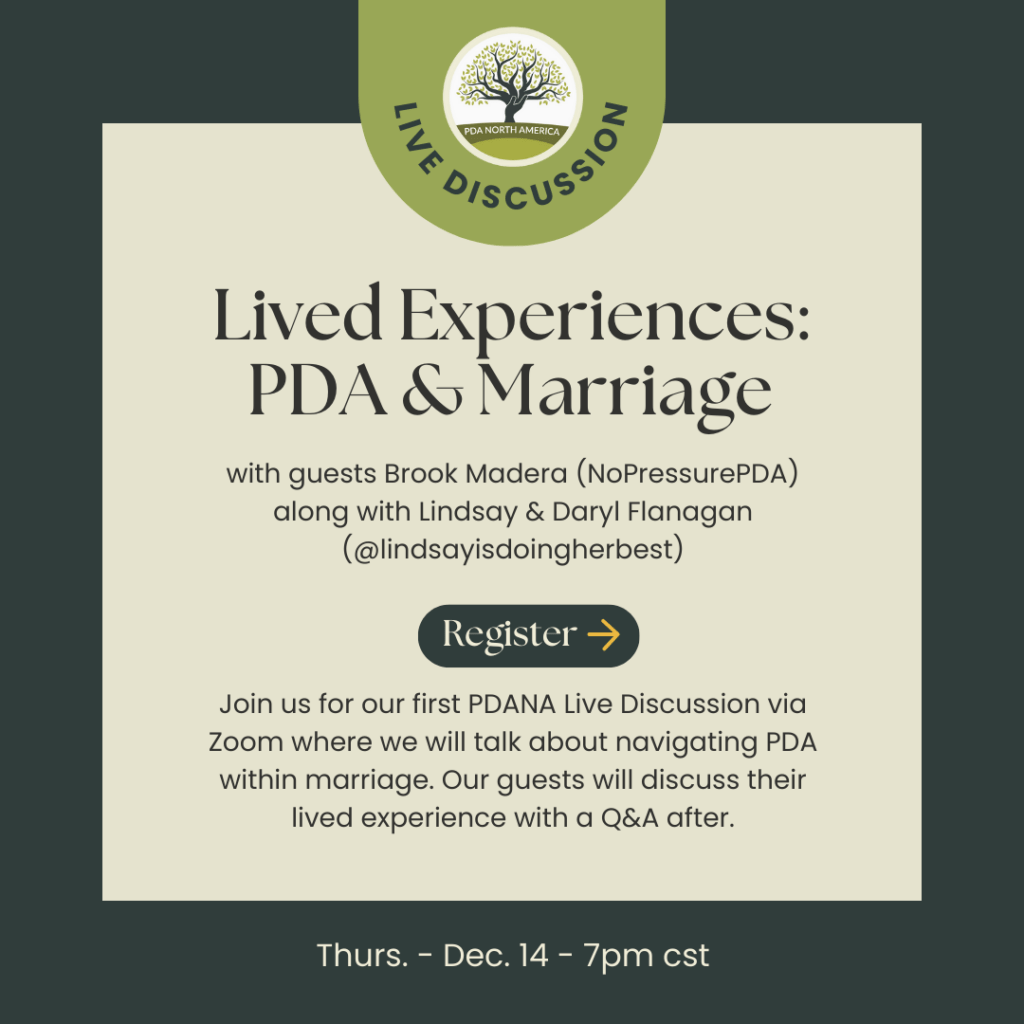 Join us for our first PDA North America Live Discussion of Lived Experiences via Zoom where we will talk about navigating PDA within marriage. Our guests include the following:
Brook (@NoPressurePDA):
Brook is a mother of 3 neurodivergent boys living in the state of Oregon (U.S.A.). In February of 2022 she was diagnosed as autistic with a Pathological Demand Avoidant (PDA) profile which was alongside her existing diagnoses of ADHD and Complex PTSD.
Her three boys are also suspected PDAers, and the struggle to find a lifestyle that suits so many different needs led to her creating No Pressure PDA (website, Facebook page, Instagram, and more). The different mediums are where she explores understanding the PDA profile and other neurodivergent expressions.
Lindsay (@Lindsayisdoingherbest) of Hive Parents and her husband Daryl (who is PDA): 
Lindsay is a therapist of 10 years, a neurodivergent mom to one PDA child and one neurotypical child, and the wife to a late-diagnosed PDA husband, Daryl
After over a year of seeking out my own training, reading every book and article she could get her hands on, and testing out what she'd learned with her own family, they are stable and happy. Like with most things in life, there's no magic wand. Autism and PDA are neurotypes and a core part of an individual for life. But she knows there is peace and happiness on the other side of supporting their unique kids in the right way.
Webinar: All Our Instincts About Behavior Are Wrong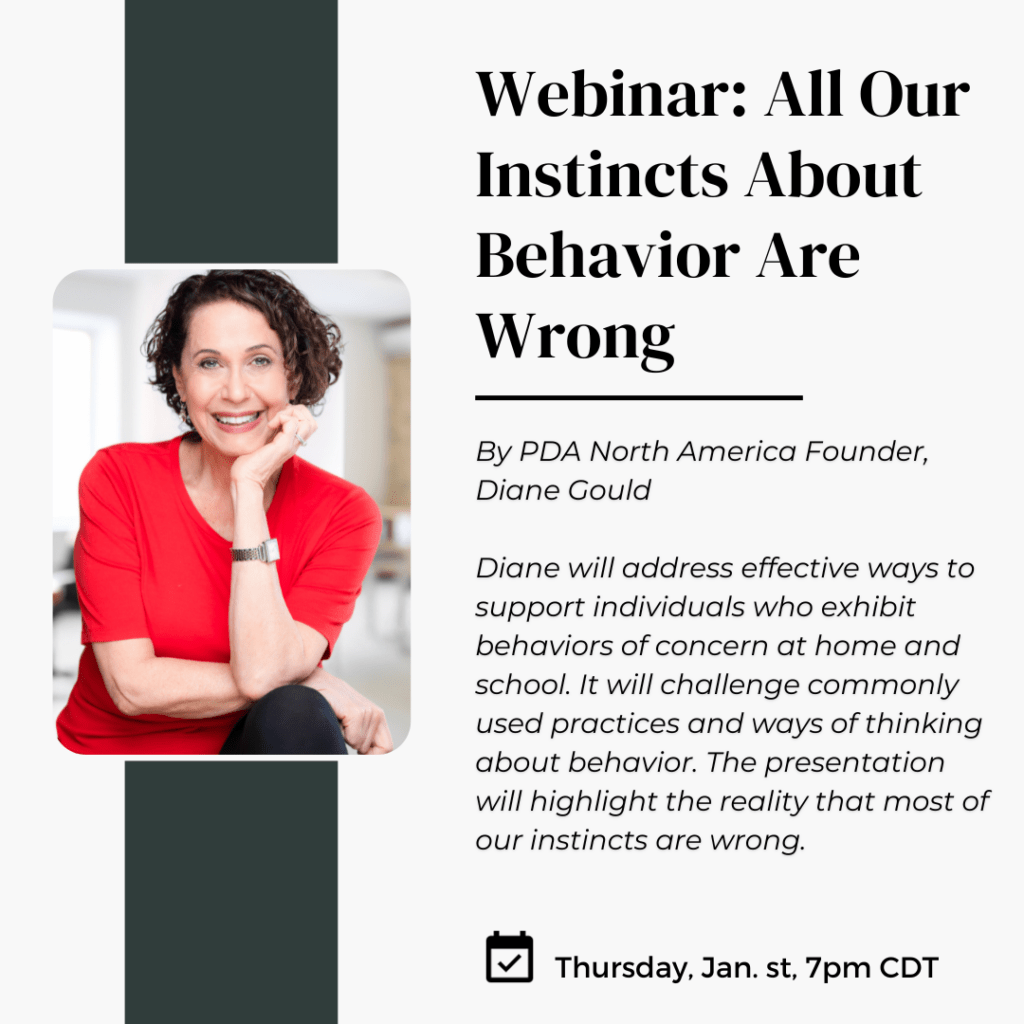 In this presentation, Diane Gould, Founder of PDANA, will address effective ways to support individuals who exhibit behaviors of concern at home and school. It will challenge commonly used practices and ways of thinking about behavior. The presentation will highlight the reality that most of our instincts are wrong.
We have a lot of power to support others emotionally and behaviorally if we fight our punitive natures and support individuals through kindness, environmental modifications, collaboration, and co-regulation. The crisis intervention practices used in schools and agencies escalate behaviors of concern instead of making them better. Diane has been a social worker for over 35 years and feels that this background has helped her to support clients  more than the certification she received as a behavior analyst 15 years ago. Her work with complex clients has taught her it is most effective to do the opposite of what she has been taught.
PDA North America Certificate Program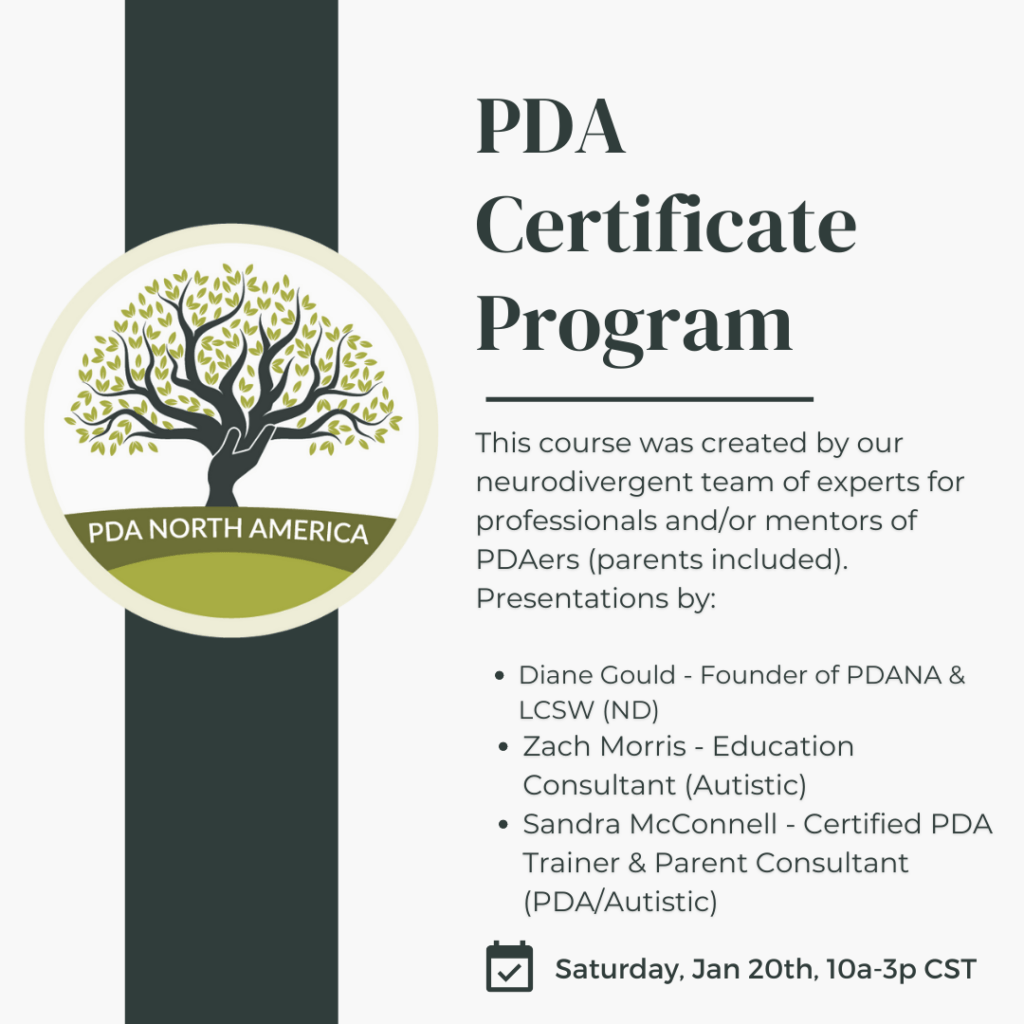 We are so excited to be offering the PDA North America Certificate Program created has been created by our neurodivergent experts once again. This course was created for professionals and/or mentors of PDAers (parents included).
Led by our amazing team of neurodivergent experts, Diane Gould, Founder of PDANA and LCSW, Zach Morris (autsitc), Education Consultant & Homeschool Advisor, and Sandra McConnell (PDA/autistic), Certified PDA Trainer and Parent Consultant.
This five-hour training will cover topics from an in-depth look at the PDA (pathological demand avoidant) profile of autism by Diane Gould, Executive Director of PDA North America, along with two of the biggest struggles that every PDA parent faces – the parenting paradigm shift, and education/learning and PDA.
The training will take place via Zoom and will be recorded. All ticket purchasers will have access to the recording for 2 weeks.

5th Annual PDA North America Conference

SAVE THE DATES:
March 6-7th (virtual), March 7-8th (in person)

Join our mailing list to stay tuned as we announce many more details in the coming months, including our early bird registration!